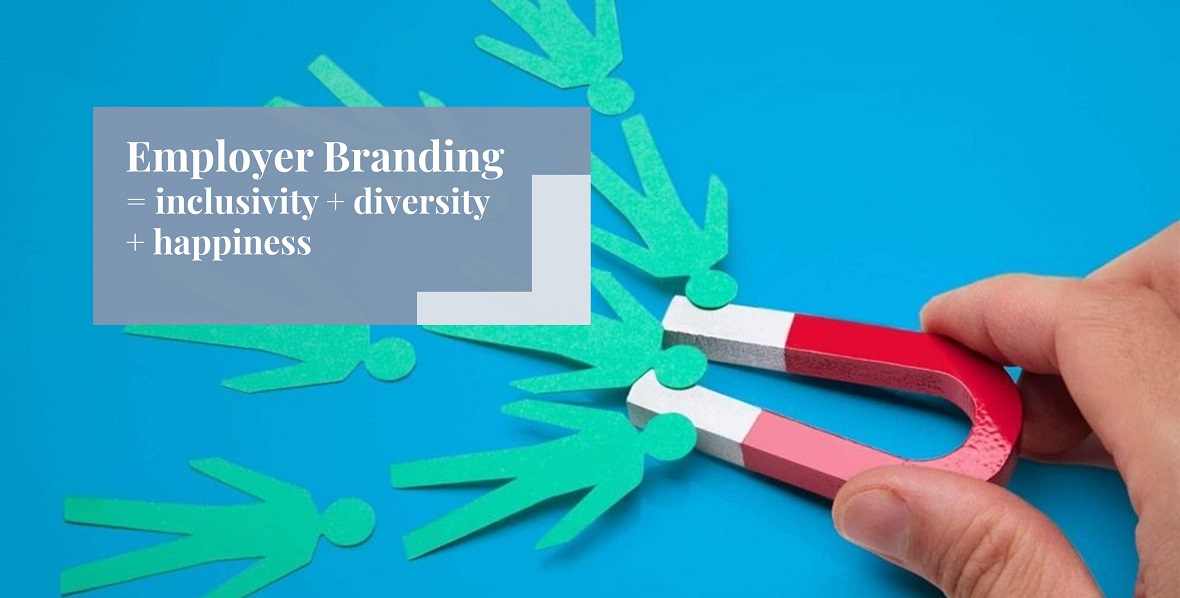 Employer Branding =inclusivity + diversity + happiness
Employer Branding is essential to capturing and retaining talent in organizations. Candidates look for companies whose values fit with their philosophy of life.
Large corporations need to offer an appealing proposal to attract and retain talent, and the most valued components of Employer Branding campaigns are inclusiveness, diversity and happiness. Managers must assume new roles and new responsibilities while also developing new skills.
Employer Branding: Focusing on employee experience
Placing the employee experience at the centre of the talent management journey is becoming the new normal.
Studies shows that employees increasingly appreciate that the organization:
proposes personalized benefits
considers their well-being as a relevant topic
values their ideas and opinions
offers a flexible, adequate and constant learning plan according to a customized career path.
Until recently, companies have focused their efforts on building their Brand strategies around their products and services. Nowadays, the dominant trend is rethinking corporate Brand strategies around employees.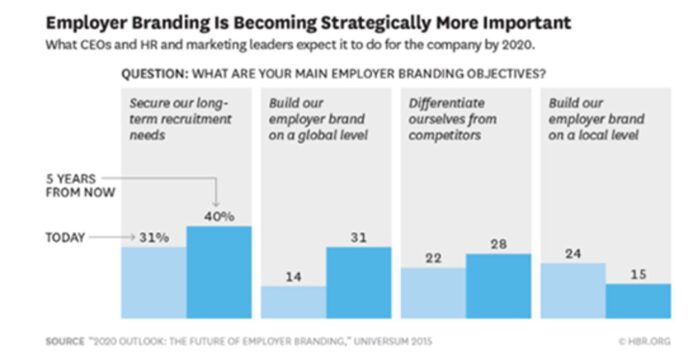 This strategic turn gives organizations valuable advantages in the labour market:
Attract more of the best applicants
Build a talent pipeline
Improve their offer acceptance rate
Improve employee retention
Reduce recruitment costs
Fill vacancies faster
Employer Branding: Connecting with people through people.
Manager's personal branding is an essential piece of the company's Employer Branding strategy.
The professional background of the leadership team is a substantial part of the perceived value of the organization. When a headhunter contacts a candidate, or when the candidate is proactively seeking new professional opportunities, one of the first steps towards the decision of changing is to discover the genuinely human side behind of the company's public image.
Companies are just a group of people: The image and reputation of CEOs and Leadership Teams are decisive factors in attracting and retaining talent in today's job market.
Numerous studies carried out all over the world, as the Employee Benefit Trends Study 2019 by MetLife, coincide in identifying the ten main reasons why a candidate is willing to accept an offer, even though he is working in a company where he feels good and in which he could continue prospering. These are:
Job security
Work-life balance
Leadership team profiles
Diversity and Inclusiveness as core-element of an organization
Inspiring workplace
Company Storytelling
Salary and employee benefits
Ethical management
Work atmosphere
Development opportunities
Sustainable practices
Strengthening a corporate culture based on diversity and inclusion, as well as aligning rewards with employee performance are essential factors in increasing employee engagement.
Employer Branding: Aligning with corporate branding
There must be a total harmony among the global Branding strategy of the organization and its Employer branding proposal. When they are not aligned, critical gaps arise that potential candidates perceive as an anomaly. That can be a brake on attracting new talent.
The responsibility of offering a Brand experience consistent and attractive to all Stakeholders is the CEO´s and C -Suite`s task.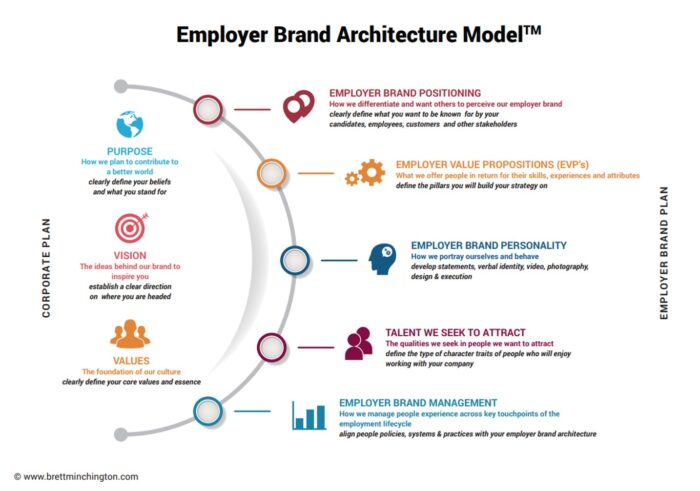 Many companies use the positive experiences of their customers to strengthen their brand image. In the same way, the positive experiences of the employees constitute a fundamental pillar in the construction of an effective Employer branding strategy.
The better employees' experience is, the better the performance in attracting talent for the organization. Companies that spread, as part of their communication strategies, the experiences and opinions of their teams obtain a valuable return on improving their digital reputation. Besides, when employees of a company feel happy about their professional work, they are more active by providing references from colleagues, friends, and family members when the company opens hiring processes.